Almora and the Katarmal Sun Temple lie an hour away from Shitlakhet. The city was once at the crossroads of trade with Tibet and was one of the most important towns in the Kumaon region.
This walk takes you through the old town seeing houses with beautiful carvings, shops selling local grains and dals, and visiting copper craftsmen.
The walk costs Rs. 1000 with its own transportation. After visiting Almora, we will be visiting the Katarmal Sun Temple.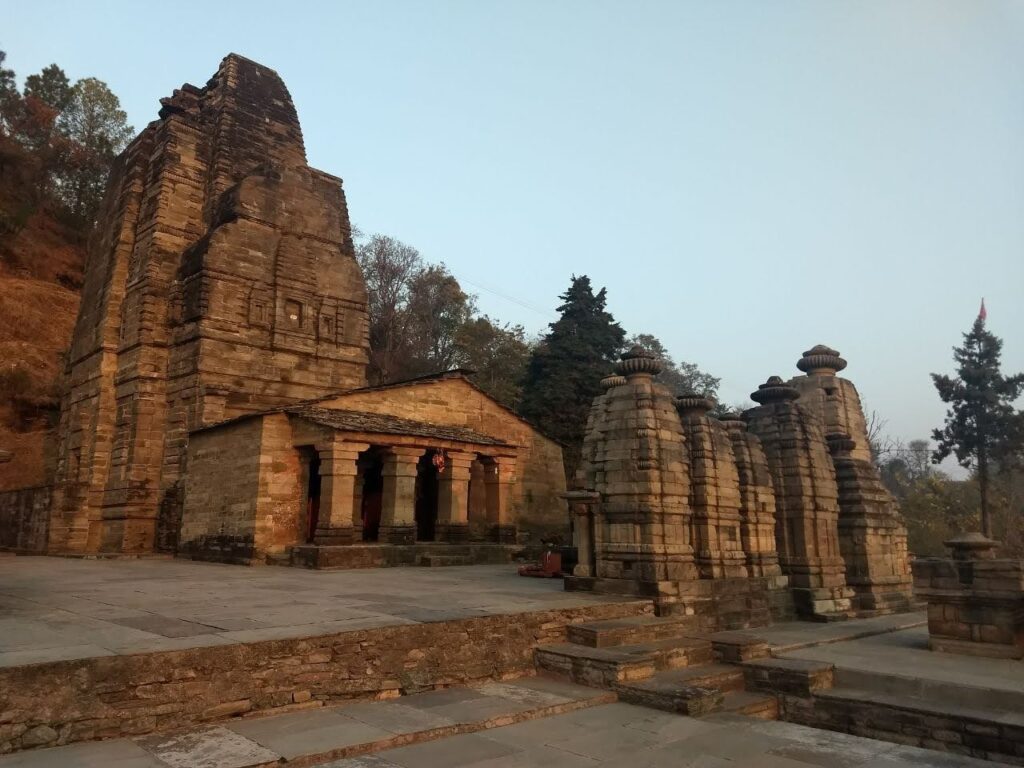 A sun temple needs precision and is a rarity in India. The Katarmal Sun temple is one of the best-preserved still. It is one of the 5 major sun temples in India – the others being in Konark, Modera, Martand and Osiyan. Building a sun temple takes precision as the aim is always that the first rays of the sun fall on the idol.
History
The temple was built in the 9th Century by the Katyuri kings and bears witness to the architecture of the day. Masons of the time used a mixture of lime and lentil paste to make the adhesive agent. To learn more about the architecture of the region, click here. The idols at the Katarmal Sun Temple consist of the old sun god Burhadita. He is flanked by Parvati & Shiva and Laxmi & Narayana. Apart from the main shrine, there are 45 smaller shrines in this temple.
The temple is a short hike from the road head and offers great views of Almora and the Himalayas. The location of such a temple is of prime importance and thus the temple is near the top of a hill. In spite of being in the middle of tectonic instability and harsh climates, the temple still stands – a testament to the quality of work done when there was no planned obsolescence.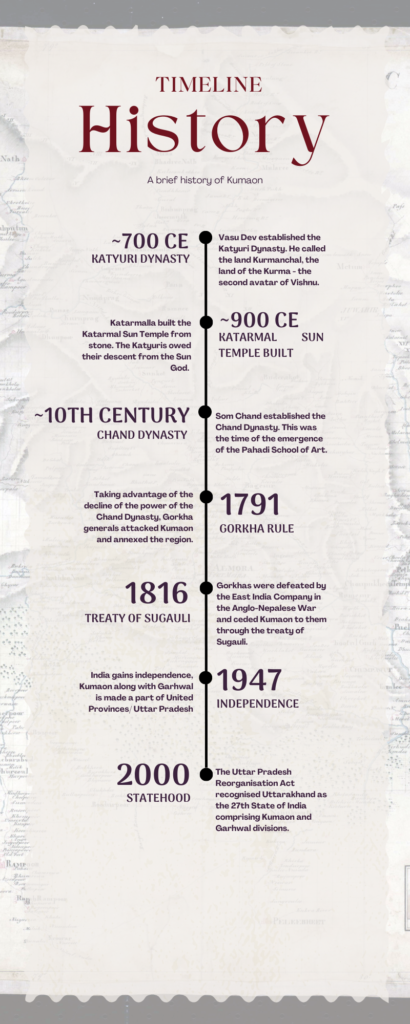 Apart from visiting the Katarmal temple, you can also hike up to the Syahi Devi temple.
Where is the Katarmal Sun Temple Located?
Katarmal Sun temple is a 45min drive from Nayalap. Hire a taxi from Nayalap or drive in your own car. You can combine it with a visit to Almora or Kasar Devi.
Why is the Katarmal Sun Temple Famous?
One of the few sun temples in India, Katarmal is famous as a group of temples made of stone. Along with Modera, Konark, and Martand, it is one of the famous sun temples in the country. The temple is also known for the rock architecture and craftwork that stands to this date.
Attractions near Katarmal Temple
Post Script
If you are interested more in the Katarmal Temple, you should visit the National Museum in Delhi and see the wooden reliefs. Authorities moved the reliefs there after the idols were stolen and are great examples of the old Likhai craft of the region.
Fact Sheet
| | |
| --- | --- |
| Nearest Bus Station | Almora |
| Nearest Railway Station | Kathgodam |
| Nearest Airport | Pantnagar Airport (PGH) |
| Amenities available at Katarmal Sun Temple | Restaurant, Washroom, Parking |
| Timings | Sunrise to Sunset |
| Elevation | 2116m above MSL |